Videos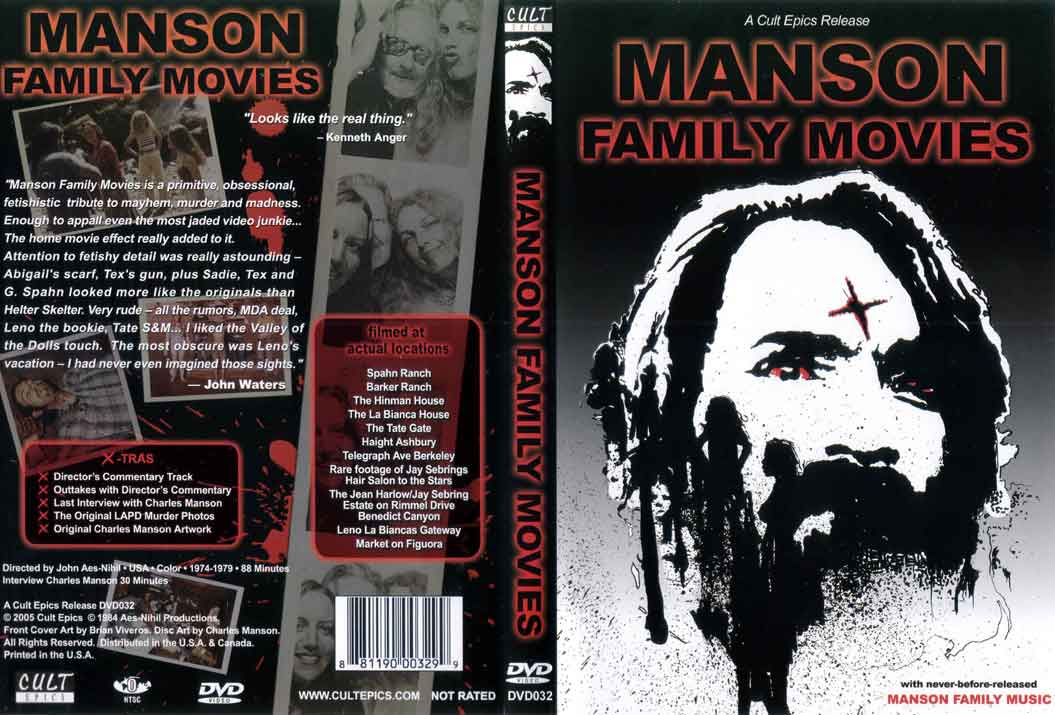 The killings attributed to the Manson Family are, in their essence, no different than crimes that happened on a daily basis in the 1960's. Though gruesome, multiple homicides and even serial murder were not new concepts at the time. Why, then, did these particular crimes capture America's attention to such a degree? Much like it's films, Hollywood's most famous murders were tailored perfectly for public consumption. The most well known victim, Sharon Tate, was a beautiful young starlet. Playing opposite her as the villain was Charles Manson, a larger-than-life character that seemed to embody the worst aspects of the permissive sixties culture. Conservative America was distrustful of the youth movement, and Charles Manson's very existence confirmed all of their fears. Many have attempted to bring the killings to the screen with varying degrees of success. John Aes-Nihil's MANSON FAMILY MOVIES brings a fresh perspective to this familiar topic.
MANSON FAMILY MOVIES is structured to resemble just that: home movies shot by members of the Manson Family. Working without dialogue, Aes-Nihil attempts to bring a narrative structure to a collage of images that are both graphic and disorienting at times. The viewers are taken through key events in the Manson Family's history. Additionally, the omniscient camera also shows the victims prior to the murders. Aes-Nihil uses a blend of concrete facts (to which he brings a high level of detail) and urban legends surrounding the crime, which are shown in gloriously exploitive sequences.
The lack of dialogue is going to be the main stumbling block for most viewers. In lieu of dialogue, Aes-Nihil will occasionally use crudely drawn title cards to convey character's speech. The film is not silent, however, the soundtrack is compiled from the recordings of Manson and his Family members, lending a macabre authenticity to the proceedings. The lack of dialogue creates a problem for viewers unfamiliar with some of the subtle details of the case. This is clearly a film for devotees of the crime, as an intimate knowledge of it is all but required to follow the film closely.
Although it shows the Family and their crimes in great detail, MANSON FAMILY MOVIES does not glorify them. By using the "home video" format, Aes-Nihil is presenting the Family's activities as part of the collective memories of a nation. Just as your trip to the beach when you were nine is a part of your memory and an event that shaped your life, the Manson Family murders are part of the memory of America. It's an event that seems less than real now, like a movie you've seen in the past. Aes-Nihil's film shows the murders as an event that transcends a mere crime story and instead a crucial event in shaping society after the sixties. - Film Fanaddict-David Carter 2006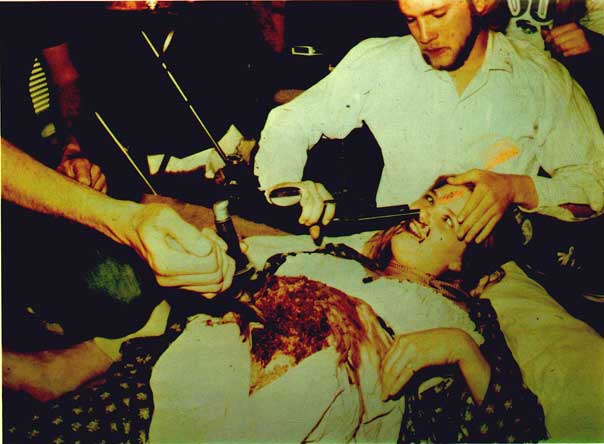 Manson Family Movies
A recreation thereof–25th Anniversary Edition (70 min.), featuring new soundtrack with never-before-heard Manson Family Music.

"Manson Family Movies is a primitive, obsessional, fetishistic tribute to mayhem, murder and madness. Enough to appall even the most jaded VCR junkie... The home movie effect really added to it. Attention to fetishy detail was really astounding–Abigail's scarf, Tex's gun, plus Sadie, Tex and G. Spahn looked more like the originals than Helter Skelter. Very rude–all the rumors, MDA deal, Leno the bookie, Tate S& M... I liked the Valley of the Dolls and Nico touch. The most obscure was Leno's vacation–I had never even imagined those sights."– John Waters
------------
Almost Feels Like the Real Thing, 14 December 2008
Author: Rapeman from New Zealand
In the summer of '69 members of Charlie Manson's "family" stole an NBC-TV truck loaded with film equipment. Later on the truck was dumped and the majority of its contents given away, but Charlie kept one of the cameras. The Family also allegedly owned three Super-8 cameras which they used to produce amateur porn films. Based on this information and an interview with a one-time member of The Family which (rather vaguely) supports this, Ed Sanders speculates in his book The Family, that Charlie and his followers may have filmed their crimes and/or been involved in the production of "snuff films". This was the first recorded use of the term snuff.
With Manson Family Movies John Aes-Nihil has taken this material combined with the rumour that The Family also filmed re-enactments of their murders and produced a chillingly accurate portrayal of what these films may have been like.
The film opens with Charlie's introduction to, then seduction of Sadie-Mae then cuts to some authentic street scenes on Haight-Ashbury complete with half naked stoned hippies, blacks being arrested, crazed homeless folk with Charlie in the middle of it all rapping with / recruiting some of his girls. For the next forty or so minutes we are witnesses to The Family going about their everyday activities and the events leading up to the Tate / LaBianca murders: drug-fuelled orgies, naked fire dancing, mock crucifixions of Charlie, creepy crawl missions, group listenings of The White Album, an unsettling gangbang with ol' George Spahn and the drug-deal-gone-bad scenario.
The second half of the film covers the murders. It seems kind of pointless to go into details here as I'm sure the majority of you reading this are well aware of the grisly facts. Suffice to say Sharon's murder and subsequent "abortion" are particularly meaty.
Family Movies was shot on scratchy 8mm film stock and is silent aside from the soundtrack which is a combination of Charlie's music, Aes-Nihil's band Beyond Joy and Evil which is of a similar folksy tone to Charlie's, and avant-garde electronics, backward voice loops & squealing sax during the more atmospheric parts. The film was shot a mere few years after the murders and uses all of the exact locations where the events happened. Aes-Nihil's dedication and meticulous attention to detail here is beyond obsessive, right down to the precise spot where they dumped their bloody clothes after the Tate murders.
The gritty home movie quality coupled with the flawless soundtrack adds so much realism to the film that it almost looks and feels like the real thing. Part of this feeling of authenticity is also due to the fact that the cast is made up of a rag-tag bunch of Aes-Nihil's hippie friends and people literally pulled off the street, some of whom were acquaintances of The Family - one of the actresses playing Squeaky pulled out of the film after shooting a few scenes because her apartment burned down and she suspected it was retaliation from Family members for starring in the film.
Seeing as the film is shot from the point-of-view of The Family recreating their crimes there is a sense of comedy here too - some members play two or three characters which infrequently leads to them being in drag, oftentimes the cast struggle to keep a straight face, particularly during the murder scenes, there are recurring in-jokes like Sharon Tate's black maid constantly reading Nietzsche, an amusing nod to Valley of the Dolls and a hilarious moment during Tate's prolonged murder scene when a discordant punk song suddenly erupts on the soundtrack entitled Die Bitch (courtesy of the Sloppy Titty Freaks). Also, in the commentary track the director notes the "actor" playing George Spahn was a seventy-year-old ex-art critic who was tripping on LSD for the first time.
All in all I can honestly say Manson Family Movies is the most authentic-looking and therefore enjoyable film I've seen concerning the "legacy" of Charles Manson and his Family. It's obvious this was a highly personal project for John Aes-Nihil and all his care and attention to even the smallest of details definitely pays off
"Looks like the real thing."–Kenneth Anger

"I remember your film very well and it looked SCARY! It had an authentic feel to it that made us squirm. Well, it looked gritty and homespun and made me NERVOUS. Keep up the original and disturbing atmosphere."–George Kuchar

"Aes-Nihil Productions recreates the apocryphal Manson home movies darkly hinted at in Sanders' The Family. Filmed almost entirely at authentic locations."–Tuxedo and Pinky, Masters of the Final Solution

"Aes-Nihil's Manson Family Movies is to Manson what Deranged is to Ed Gein, with all its grotesque splendor. Any Manson fan is getting more than they bargained for."–Mussette and Yehti, Authorities on The End Times

"Manson Family Movies will remind you of your earliest breakdown... of a time when even the Good Humour man could whip out his peter and force it down your quivering young throat. With the kind of spontaneity that everyone just loves, this chilling comedy poked fun at ritualistic human slaughter, along with the accompanying seizures of catatonic psychosis. More than just a documentary, Manson Family Movies boasts an effervescent instability reminiscent of those films they used to show you in elementary school about going to the dentist. So caress yourself without remorse, the time has come to abandon your inhibitions!"–Alex St. Ives, Pornographer

The Drift
The latest high drama from Aes-Nihil–starring Glen Meadmore, The Goddess Bunny, The Cosmic Daniel, Michael Kleats, Tom T.O.P.Y., Paula P-Orridge and Lance Loud.
"The Drift is really quite hypnotic and riveting. It's hard not to see the whole thing in one sitting but once your caught in that web of decorated decadence it's impossiable to budge the buttocks toward more sacharine seating. George Kuchar
Much as VINYL appears to be closer to the novel on which it is based than does the Hollywood version of, so THE DRIFT strikes is as more to the point of Tennessee Williams' novel THE ROMAN SPRING OF MRS. STONE than does the Tinseltown version. And the latter is no mean competiotion for as you may remeber it stars Vivein Leigh, a very young Warrne Beautty, and the redoubtable Lotte Lenya. But what that book is really about or what it really is is not something Hollywood can put its finger on easily. For it is not about the deparavity of its own viewpoint and vision. This Aes-Nihil captures admirably. And with a fraction of the effort that went into the commercial venture. What is most elusive about THE DRIFT and perhaps it is the secret to what makes it work is that we are never certain of Aes-Nihil's conscious intentions. But then again neither are we ever really certain of Mae West's. What we can be sure of is their sucess. From the moment that we gaze down the 'spanish Steps' at young Paolo, gaze down through the lectherous eyes of our tranvestite matron the not-to-bebroken concentration of her eyes we know we are in sure hands. They they understood what this truly sordid tale is all about. And just who is sordid in the whole undertaking. What I,m saying is that Tennessee Williams was never more roundly denounced than he is by THE DRIFT and that that denuciation may be coming from a fan. And that is the work's secret. And where in the world could one have come up wit a better Countessa than we have in Goddess Bunny? Especically if you felt you had to oudo and out perform Lotte? We are talkingdepravity that takes the luncheon lobster right out of Lotte's yawning maw. THE DRIFT understands the signifance of all the stars in this work and what it comes up is breathtaking. Every setting as it relates both the book and commercial flick is hilareous. And Michael Kleats as Paulo is making a statemnt on Paulos the world over that needs no elaberation. Above all the films keeps its sence of good humour about it. The actors appear to be enjoying themselves and since they are so are we. The pay off comes when one of them gets truly picked off for we get to witness something rarely captured captured on the screen: A queen's true fury. And all the while we are watching Mr. Williams' yarn."–Ronald Tavel, Feburary 1997

"The Drift is a complete travesty... an obscene and tantalizing tragedy best suited to those whose existence lies cradled in the sweaty arms of misery. Never before can I recall when so many unhealthy elements have merged to form something such as this: a concentrated miasma of murdered desire and cultivated despondence. This is the story of an arrogant woman and the men forced to endure her neurosis. She's a wreck: in the course of her life, she periodically flirts with sensitivity only to have her obsession with poverty inflate so dramatically that it suffocates her simple dream of being a farmer's wife. The Drift illustrates a world of too much etiquette, just enough silverware, and not nearly enough champagne!"–Alex St. Ives, Pornographer

Whilst Filming The Drift, The Goddess Bunny Channels Shakespeare
Starring The Goddess Bunny, Glen Meadmore, That Cosmic Daniel and a hustler.

"The entertaining Goddess Bunny sops up another one in this, the finest and most frequently requested video in our catalog. The Goddess Bunny Channels Shakespeare dismembers all notions of decency with the timely story of a conceited whore starlet dedicated to the complete annihilation of Hollywood glam hypocrisy. While liquor bottles clatter repeatedly under the sofa, the Goddess Bunny continues her oration in the gloriously slurred voice of popular Elizabethan playwright, William Shakespeare. While cries of euphoria echo throughout the auditorium, the Goddess succumbs to her terminal ache of elegance, and climaxes by re-writing the dictionary and simultaneously begging for death."–Alex St. Ives, Pornographer
The Goddess Bunny: The Only Truly Glamorous Star Left In Hollywood
Also, the only transsexual/ex-quadriplegic/ex-hooker/drag queen, period. Includes the infamous Tap Dance, Hollywood Girls, Hollywood Vice and live shows in Hollywood. Sorry, no porno!

The Ma Barker Story
A musical comedy based on the day to day life of the notorious 1930s Barker Gang. Filmed on location at the Barker Ranch, the Spahn Ranch and in downtown Trona. Starring the Goddess Bunny as Ma Barker, Brett and Bubba of Psycho-Drama as Herman and Freddie Barker, Glen Meadmore as Alvin Karpis, X-Tina as Rembrandt and Harlan as Pa Barker.
"The murder is too real!"–Don Murphy
-----------
All hail historian and archivist John Aes-Nihil for his beautifully unnerving film The Ma Barker Story. A whacked-out mutation of Corman's Bloody Mama, Aes-Nihil's masterpiece contains cinema's most disturbing murder scene, as well as intense performances by some really fucked up individuals.Thirteen years in the making, painfully assembled without money or divine guidance, this harrowing account of America's Most Wanted Family is expansive and extreme, exploring the psyche's most painful regions. Excellent acting, hypnotic camera work, insane violence, etc. FIVE STARS, NINE PLANETS, 86 MOONS and an ASTEROID BELT for this one."–George Petros
------------
"Andy Warhol may be dead but he must be clapping from on high over John Aes-Nihil's latest pairing with the divine Goddess Bunny in this outing that maybe continues the paths explored in Lonesome Cowboys, or at least charts a direction The Shaggs may have taken if they were homosexual paraplegics on LSD. The garbage dumpsters of Southern California appear to be overflowing as Aes-Nihil has merely dusted the tops of the refuse to populate his latest pioneering adventure, a toiled and unwashed milieu of decadence, murder, rape and the deconstruction of the Western adventure. With an overly wavering camera eye, subdued sound recording complete with obscuring winds, and a dirt-covered set that suspiciously resembles my mind's-eye illusion of the Spahn Ranch in its Manson-overrun heyday, Ma Barker obliterates preconceived notions of what a film is, and gives us... this."–Shade Rupe
------------
From the Pope of Aesthetic Nihilism himself - Jon Aes-Nihil - comes this bizarre reimagining of the Karpis-Barker gang saga. This family/gang of criminals terrorized the Midwest with a series of bank robberies, kidnappings and murders in the 1930s.
The Ma Barker Story is essentially a prequel to Aes-Nihil's 1984 film Manson Family Movies, as linked by a historical connection between a young Charlie Manson and Alvin "Creepy" Karpis. It seems when Charlie was locked up as a youngster in the early '60s, Creepy took him under his wing and taught him to play the guitar.
Starring lovable transsexual-quadriplegic-drag queen the Goddess Bunny as Ma Barker and queer Christian cow-punk Glen Meadmore as Alvin "Creepy" Karpis, The Ma Barker Story depicts a week (or so) in the life of the notorious gang.
"An absolute must-see for lovers of transgressive cinema "
If this film is to be believed, a typical week for the gang involves: hanging out on the porch of their ranch gettin' tore up on moonshine; committing a rape/murder; robbing a bank; chowin' down on some greasy lard sandwiches; then executing the local Sheriff for sleeping with their beloved Ma. A very full week indeed!
Shot on location at the Barker and Spahn Ranches and inspired by Roger Corman's Bloody Mama, Aes-Nihil presents a deviant vision of the wild west laced with drunken transgressions and quadriplegic sex acts. The Goddess Bunny is superb as the Barker matriarch, waving her shotgun around at random and egging her boys on. She even has a somewhat touching scene with her aged mother who gives a heartfelt plea for daughter to go on the straight and narrow.
"brings to mind the early films of auteurs such as Andy Warhol, John Waters and the Kuchar Brothers"
Aside from Ms. Bunny's Oscar deserving performance, honourable mentions must go to Glen Meadmore as the guitar-strumming Alvin Karpis and Bubba as the Opium-addicted Freddy Barker, both pull off some truly memorable and often hilarious "acting". Most unforgettable quote undoubtedly goes to Gator as Herman Barker who, in reference to Ma kicking Pa out of the domestic bed in favour of the Sheriff, utters: "A Pa must have a beard and that Sheriff ain't got no beard!"
The whole atmosphere of the film feels very much like a fucked-up home video, e.g - a bunch of friends get off their tits and decide to break out the camera and indulge in some play-acting. This is not a negative point in my opinion as it brings to mind the early films of auteurs such as Andy Warhol, John Waters and the Kuchar Brothers.
The soundtrack deserves a mention here too as it is really what pulls the whole thing together: the film opens with a scene of the Barker boys in jail underscored with Clang Bang Clang by Charlie Manson; from then on it is pretty much Meadmore's "Christian-Country-Punk" tunes and some banjo noodling that fill the score. Particularly in the final scenes the melancholic country songs coalesce with the onscreen goings-on to make it all that much more powerful.
An absolute must-see for lovers of transgressive cinema and/or Waters, Warhol & Kuchar fans - Rapeman
Also available
Suddenly Last Summer
An Aes-Nihil Production
Second installment of the Aes-Nihil / Tennessee Williams trilogy, starring Jade Gordon, Bibbe Hansen, Vaginal Davis and Lance Loud.
"It's Fabulouse, I Love It! Vaginal's Performance is Phenominal!" John Waters
Dr. Vaginal Davis (America's Leading Blacktress) gives what John Waters describes as "phenomenal" and what George Kuchar calls "a riveting" performance as Mrs. Venable, the obsessed, upset mother of the dead poet Sebastian. Beset with an en masse visit from her late husbands relatives which include Mrs. Holly (Bibbe Hansen - Warhol Superstar at age 13 and mother of Beck), George Holly (Jason Majik - A Dangerous Place) as the mercenary son, Katherine Holly (Jade Gordon - Sugar Town, My Barbarian) as Sebastian's set upon companion, Sister Felicity, the Nurse/Nun (The Goddess Bunny -The Only Truly Glamorous Star left in Hollywood ) of who's performance Ronald Tavel states "Another scene-stealer using understatement" and Dr. Sugar (Lance Loud - An American Family, The Mumps) brought in to "Cut that Hideous Story Out of Her Head" by Mrs. Venable. A psycho-sexual catharsis ensues when Katherine is given sodium pentothal and reveals what really happened, Suddenly Last Summer.
Suddenly Last Summer is directed & adapted from Tennessee Williams' renowned play by underground filmmaker John Aes-Nihil (Manson Family Movies, The Ma Barker Story, The Roman Spring of Mrs. Stone/The Drift, William S. Burroughs in the Dreamachine).
------------
I feared that Aes-Nihil could not possibly transcend the original Manson Family Movie but I was incorrect. This film is uniquely entertaining and possibly the director's most impressive work to date. There is the signature obsession to detail that is typical of an Aes-nihil production but here it's transmuted into a kind of voyeuristic case study. We are also exposed to the fabulous Vaginal Davis. The combined talents of director and superstar performance is almost too much for the film to contain. The physical and emotional intensity of Davis is channeled into the Tennessee Williams adaptation resulting in a conceptual implosion. - Spiritual Terrorist
------------
The John Aes-Nihil film Suddenly Last Summer channels the wake of the Titanic: recognizable chunks of Tennessee Williams' original text, plot, and cast bob and float on a soundtrack of malice.
Organ music hums and whirs beneath Vaginal Davis, a big black man in a white dress humming along imposingly as Violet Venable (the mother of Sebastian, a dead young poet) and the organ swells and whines just as Jade Gordon, a white woman in a big black wig, swells and whines playing Catherine Holly, the distant cousin who was there to witness the young poet die. The score's connection to the action is ironic enough that one wonders if the organ really is the score to the movie or the leak from an ice-skating rink next door to the projection booth. The loudest sound in the movie – enough to make one jump -- is not the mighty Wurlitzer but the Waring Mixer chopping up the ice for five o'clock daiquiris.
Often the periphery of a given shot punctures what's being said or shown: in one sequence a chandelier crystal cuts down like a fang, in the extended opening sequence a boa sits coiled on Mrs. Venable's head dripping stray feathers over her eyes like white venom.
The actors, too, punctuate what's being said or shown. While Vaginal Davis beams, engorged by the sun, Lance Loud as Dr. Sugar circles her like a smiling pilot fish – listening as she proposes he perform a lobotomy on Catherine. Jason Majik as Catherine's handsome brother twirls his tennis racket as if drilling a hole in the camera. The Goddess Bunny has rarely looked so manly as she does in her white wimple playing Sister Felicity, Catherine's guardian.
The dead poet, Sebastian, appears a few times. In the body of the film he's played by Lawrence Elbert, in a sequence that closes the movie the role is done by David Organisek. Neither is particularly charismatic, or particularly good-looking. To ask what's the fuss is to miss the point. There IS a fuss, THAT is the point.
Bibbe Hansen's performance as Mrs. Holly (Catherine's mother) sums it up. Hansen is Diane Arbus-real – the role's any pretense to something other than artifice a pretense in itself. David Kaplan-Director: Tennessee Williams Theatre Festival
------------
Vaginal Davis, a major Los Angeles drag star, singer, stage performer, and DVD artist, dominates and intimidates all competition in Jon Aes-Nihil's SUDDENLY LAST SUMMER: a send-up and shrewdly perverse examination of Tennessee Williams' short story of the same name. Handling the talkathon role of Mrs Venable with supreme confidence (and memory), she takes quite seriously the role of a mother-in-law out to lobotomize her late son's wife, Catherine Holly – to prevent her from disclosing his use of them both as procurers - and his consequently being cannibalized.
In fact, one of the riveting aspects of this movie is watching the co-stars waiting for their chance to get a word in edgewise, trying to find their way around the cue that Vaginal Davis failed to drop, and defending themselves against her more-than-physical upstaging. Most martyred and long-suffering of these co-stars is the late Lance Loud (to whom the film is dedicated) who plays the less than enthusiastic Dr. Sugar, the surgeon hired to drill the hole in Catherine's forehead. He is several times crushed against Ms Davis' bosoms to prevent him from opening his yap, and on one occasion has to remind her of her own lines. Jade Gordon sedately handles the role of Catherine Holly, managing to capture the seductive look and postures of Liz Taylor (who essayed the part in the unsuccessful Hollywood version) minus Taylor's histrionics. Gordon also cleverly integrates her real-life patience into the character's near crushing circumstance. Another scene-stealer using understatement is The Goddess Bunny as Sister Felicity. Bibbe Hansen (who appeared in Warhol movies at age 13) plays the mercenary Mrs Holly and Jason Majik enacts her equally mercenary son, George. Handsome Lawrence Elbert and David Organasak both portray Sebastian. In a bit role as the nurse Miss Foxhill gingerly engineering Vaginal in a wheelchair, The Goddess Freya encapsulates what is so funny about all the performances. A pounding melodramatic score, humorously injected with the cries of flesh-eating birds, is provided by George Wright and Pharoah Sanders.
The choice of cannibalism for a subject has never been a lucky one for writers, and SUDDENLY LAST SUMMER was not Williams' only attempt to deal with it. Here, it is entirely unbelievable: and Jon Aes-Nihil, in hilariously dissecting its symbolism in Williams' story, is perhaps reminding us of the generally unbelievable material in Williams' opii, over and against their popularity. – Ronald Tavel, 2008.
------------
Film adaptations of Tennessee Williams' plays can be trying, especially for those of us lucky enough to have seen a well-rendered stage production. I attended the London premiere of a magnificent Suddenly, Last Summer production in 1999, with Sheila Gish as Mrs. Venable, Rachel Weisz as Catherine, and Gerard Butler as Doctor Cukrowicz.
And yet, miraculously, cult legend John Aes-Nihil re-articulates for film Williams' essential spirit and thanatos in this unexpected treasure. The cast more or less speaks for itself. Though Vaginal Davis is not quite as repulsive as I imagine Mrs. Venable to have become, this is after all a movie, and a well-paced Vaginal grows increasingly ghastly as the narrative unfolds—strong work on her part, as on the enigmatic director's. Shamanic is an apt word to describe her performance. The tragically departed Lance Loud (of "An American Family" fame), Jade Gordon, Jason Majik and Bibbe Hansen are predictably good.
Most of Williams' plays are forced to endure distorted endings at the hands of Hollywood—and, on first viewing, Aes-Nihil's Suddenly seems to uphold the tradition. It is, though, a subtle difference, and the subtlety is reinforced by an obvious aesthetic kinship. Unlike the cringe-inducing alterations imposed by earlier directors—on Streetcar, Cat, and both Suddenly predecessors—Aes-Nihil negotiates Suddenly's coda as a logic-defying enhancement, an unexpectedly quiet segue into seductive ambiguity. When asked, he explains that the book's low-key ending is anticlimactic (Dr. Sugar: "Maybe her story is true."), and ultimately anti-cinematic—it might have recalled the ending of the original Cat People.
Aes-Nihil's film develops in reverse, from the psychosexually open-ended closing moments at a paid public beach, and is accompanied throughout by an ardent devotee's selection of George Wright phonograph recordings. These theatre organ masterpieces are captivatingly well-suited, lending the film an effective means of time travel to a lost era of style, grit and fire, yet also an emotional resonance that protects this gem from the clutches of kitsch.
This is one of my favorite Tennessee Williams plays. Aes-Nihil's adaptation slots in right up there with the best. Well worth seeing! — David Woodard, Monopol
The second installment in director John Aes-Nihil's Tennessee Williams trilogy stands proudly ostracized from all modern independent endeavors. There is no question that Aes-Nihil went to great lengths to assemble a mesmerizing handful of actors and actresses, including Vaginal Davis, Bibbie Hanson, Jade Gordon, Lance Loud, Jason Majik, and The Goddess Bunny, who is undoubtedly, "the only truly glamorous star left in Hollywood." Vaginal Davis exhibits a wonderfully exaggerated performance as a mother grieving over the loss of her son who was a poet, struggling to maintain a sense of sanity when her deceased husband's relatives drop in for a visit. The story grows progressively stranger with each passing scene, and those who are familiar with the original play will be awe-striken by Aes-Nihil's extraordinary vision of the cast. It can also be said, without a moment of hesitation, that this is the only Tennessee Williams film adaptation to combines the erractic sounds of Pharaoh Sanders and George Wright. Recommended by John Waters, those interested in offbeat film won't want to miss it. — Scott Gabbey, Ultra Violence Magazine 2009.
------------
"Suddenly Last Summer is the second instalment in John Aes-Nihil's trilogy of Tennessee Williams adaptations, the other titles being The Drift and Boom (which as far as I know is not currently available). Now, having never seen any of Williams' original plays nor any of the numerous film and television adaptations myself, I can only judge his work from the interpretations of Mr. Aes-Nihil which, to say the least, are utmost bizarre.
The narrative centres on wealthy widow Violet Venable whose son Sebastian, a poet, has recently died while on vacation with his cousin Catharine. The film opens with a twenty minute monologue from Mrs. Venable addressed to a Dr. Sugar (aka Cukrowicz) endeavouring to convince him to perform a lobotomy on her niece in an attempt to stop her spreading the scandalous circumstances of her son's death.
The rest of the film's runtime is taken up with melodramatic bickering and familial in-fighting as Catharine's mother and brother make an impromptu visit to the Venable estate hoping to snag some of the inheritance rumoured to be up for grabs. But when Dr. Sugar injects Catharine with truth serum, the fantastic reality of Sebastian's death finally comes out and all illusions are shattered.
Shot on video in black-and-white with a cast consisting of - amongst others - drag queen / performance artist Vaginal Davis, Warhol star (and Beck's mother) Bibbe Hansen, and Aes-Nihil regular the Goddess Bunny, Suddenly Last Summer invokes a warped vision of 1930s New Orleans where old rich widows are played by hulking black drag queens and Nuns by disabled transvestites.
As is typical with an Aes-Nihil production, all traditional notions of "acting" are thrown out the window in favour of overblown histrionics, unashamedly flubbed lines and just a general air of authenticity. This is filmmaking in the raw. If anyone could be credited with "stealing the show" it would undoubtedly have to be Ms./Mr. Vaginal Davis as his run-on monologues, screaming fits, wardrobe choices and scenery-chewing performance is just jaw-dropping and ultimately makes the film what it is.
Mention must be made of the soundtrack here, too, as it ranges from baroque organ music, free jazz saxophone and guitar to a high pitched drill-like effect that is explained away as the sounds of Mrs. Venable preparing her afternoon daiquiri (?!). Despite (or more likely because of) sounding slightly schizophrenic, a very effective score.
With its themes of incest, cannibalism and covert homosexuality, Suddenly Last Summer is the perfect vehicle to accommodate Aes-Nihil's fetishistic attention to detail and outsider cinema perspective, thus works as one of the more interesting stage-to-screen adaptations I've had the pleasure of witnessing." - Rapeman, DVD Holocaust
DREAMACHINE EXHIBITION AT CABARET VOLTAIRE ZURICH - The Dreamachine is a stroboscopic apparatus that when sat in front of with the eyes closed induces a hallucinogenic, hypnagogic state. It was invented in the '60s by Beat writer/poet Brion Gysin with the help of Ian Sommerville after being inspired by W. Grey Walter's book, The Living Brain. William Burroughs had long been an advocate of the machine and helped it gain more widespread attention.
The Dreamachine Exhibition documents the 2008 installation at Cabaret Voltaire in Zurich, birthplace of the Dada movement. The feature speaker at the presentation is David Woodard, who, after corresponding with Burroughs in the '90s tweaked and perfected the Dreamachine, subsequently constructing models for celebrities such as Kurt Cobain and Iggy Pop. The other guest speakers include Swiss author Christian Kracht and infamous "cult" personality Ma Anand Sheela.
After readings from Dr. Woodard and Christian Kracht (whose ode to the elegant aesthetics of Japanese toilets is most charming), Ma Sheela speaks about her art therapy with mental health patients incorporating the Dreamachine. Then the floor is opened for a short Q&A in which Dr. Woodard expounds on the history of the Dreamachine and its uses.
Afterwards we are taken on a tour of the actual exhibition which includes a video introduction to the Dreamachine by Dr. Woodard, photo documentation of Ma Sheela and her patients interacting with the machine and some of their artworks, a preview of Jon Aes-Nihil's upcoming documentary William S. Burroughs and the Dreamachine, and a darkroom housing the machine where observers are able to experience it for themselves.
For an 83 minute film purely documenting the Dreamachine Exhibition, this is surprisingly fascinating viewing. Admittedly the opening readings could be considered a little dry for home spectators, but once the exhibition is opened up things get more stimulating. The most interesting segment for me personally was the excerpt from the Burroughs documentary, as it showcases the aged junky shuffling about his house wrapped in an old army coat tending to his kitties, preparing his drink of choice - Vodka 'n' Coke, and chatting with Dr. Woodard and Aes-Nihil on the subjects of hallucinogens and L. Ron Hubbard. Recommended viewing for Beat fanatics and transcendental enthusiasts alike. - Rapeman July 29 2010
COMING SOON
William S. Burroughs In The Dreamachine
A documentary on William S. Burroughs' and David Woodard's involvement with the Dreamachine, also featuring Leonardo DiCaprio and Allen Ginsberg. Includes the last footage of Burroughs at home and out on public forays.
"This is much more interesting than most documentaries in that its structure reflects the way Burroughs writes" - Kenneth Anger
This was shown as a rough cut, at the Amsterdam Film Festival in 2000, as part of Kenneth Anger's presentation.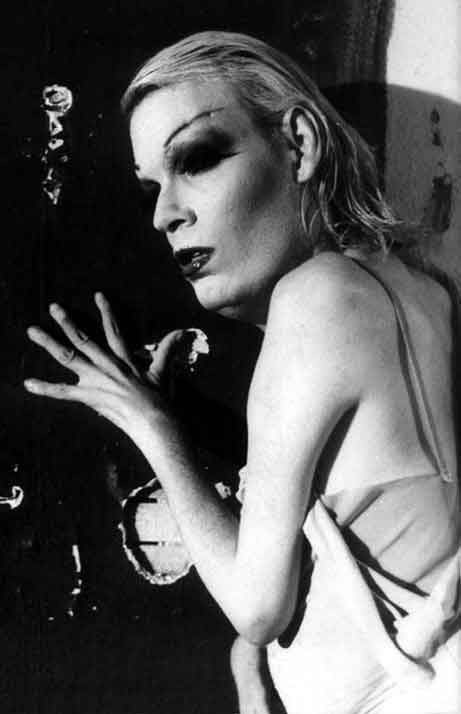 Descent Into Glamour
The Goddess Bunny story, starring the Goddess Bunny, Jade Gordon and Vaginal Davis.
AUDIO CDs
Beyound Joy And Evil Does Aesthetic Nihilism, 1974-79
Avant-garde heavyweights play on rock instruments with regard for nothing but energy. Includes: What Have You Done for Your Führer Today?, Accurately Killing, Something As It Really Is, Beyound Joy and Evil, Jeanne Maureen, and Beyond PCP Live. Lyrics by Nietzsche, C.S. Lewis, Mel Lyman and others. "Sort of like Metal Machine Music, but with lyrics." Lyric book included. (70 min.) DOUBLE CD $20
The Ma Barker Story Soundtrack & Compilation, by Glen Meadmore, Ed Keller, Dan Janish and Aric Leavitt
CD $15.00.

King Mama Does "Where Rabbit?" (X)
A giant, perverse male hawg trapped in a female human body. King Mama says, "I am the best... buy my tape or I'll kill you." King Mama Comix included. (60 min.) CD & ComiX $25.00.


Boy Tito M... Bisexual Punk
The psycho-sexual rantings of a 7-year-old depraved genius. (60 min.) CD and The God Book $25
MAGAZINES
Sewer Cunt
Transgressive magazine from Scandinavia. It has an interview with Aes-Nihil. Its along the lines of Answer Me. Sverre Kristensen, Nikolas Schreck & Nick Bougas are also interviewed $25